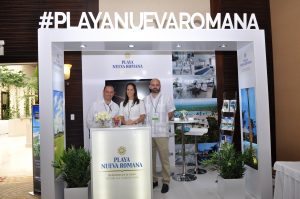 El equipo de Playa Nueva Romana dijo presente en una de las más distinguidas ferias Internacionales en República Dominicana, Live and Invest Overseas, celebrada en el Salón Bonanza del hotel Sheraton en Santo Domingo, donde se dieron cita gran cantidad de personas.
El objetivo de los ejecutivos de Playa Nueva Romana en Live And Invest fue darles las informaciones precisas y oportunidades que necesita todo el que desee invertir y alcanzar sus sueños de tener una vivienda llena de lujos, en un lugar exclusivo o simplemente vivir en el paraíso, al igual que responder todas las preguntas y dar el debido asesoramiento a los presentes.
Playa Nueva Romana logró darse a conocer a los principales inversores del país que se vieron interesados por los privilegios ofrecidos a través un tour a los inversionistas en el residencial y presentaciones de ventas de lotes, apartamentos y villas durante el evento.
La Feria Internacional Live And Invest Overseas se destaca por su presencia en todo el caribe y gran parte del mundo el cual se ha convertido en una plataforma de presentación y oportunidades para todo el que desee invertir. Esta es la cuarta vez que realizan esta conferencia en la República Dominicana contando con la presencia de conferencistas especializados en los temas de interés del sector.